Answers to your questions
Here are some of the most frequently asked questions about the VISP. If you don't find the answers you are looking for below, please contact us.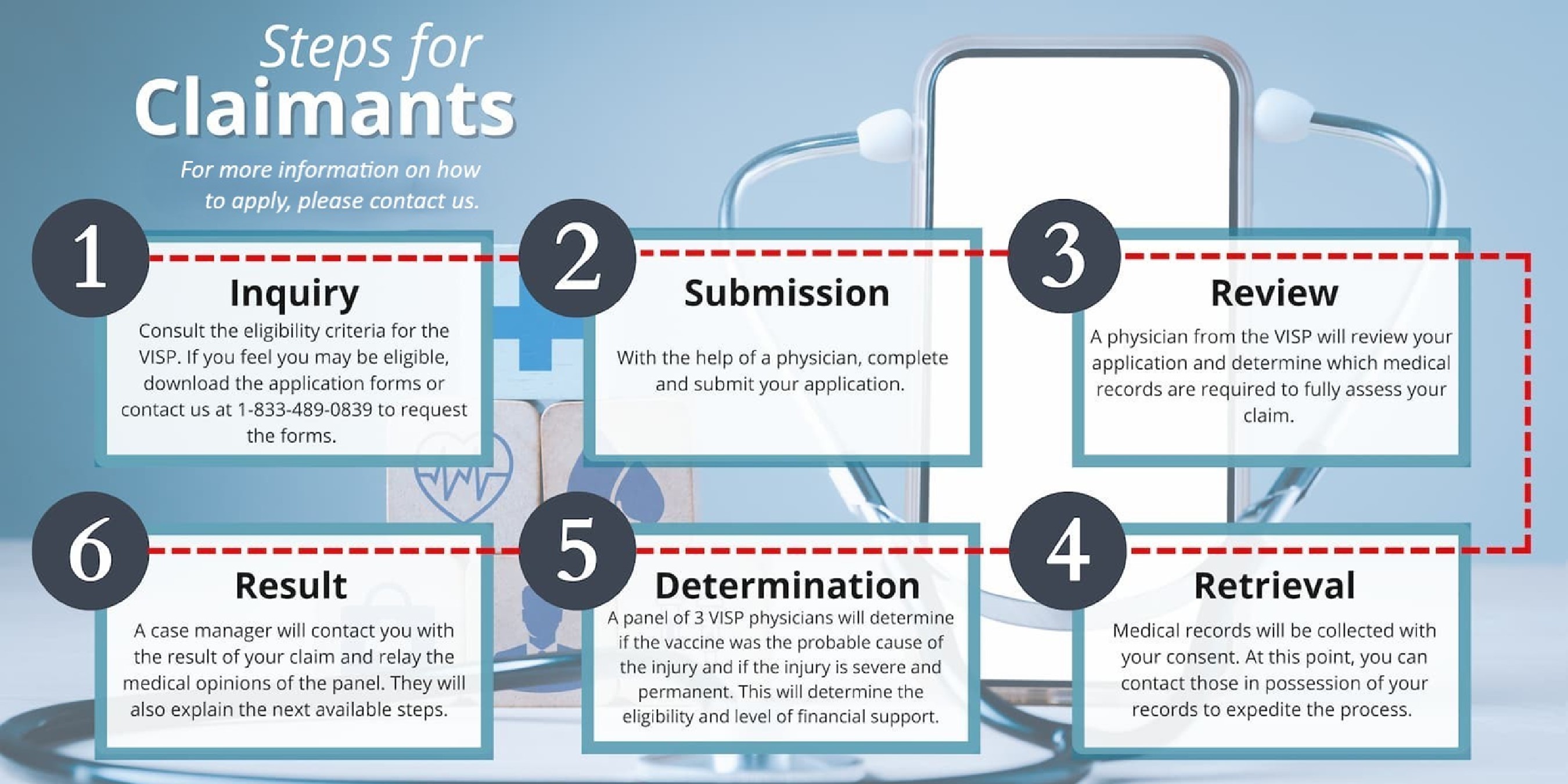 General Information
Which vaccines are covered under the VISP?

All current and future Health Canada authorized vaccines or immunoglobulins that provide protection from preventable infectious disease, administered in Canada on or after December 8, 2020, will be covered under the VISP. This includes vaccines authorized under the Food and Drug Regulations as well as the Interim Order Respecting the Importation, Sale and Advertising of Drugs for Use in Relation to COVID-19.
What constitutes a serious and permanent injury?

A serious and permanent injury is defined as a severe, life-threatening or life-altering injury that may require in-person hospitalization, or a prolongation of existing hospitalization, and results in persistent or significant disability or incapacity, or where the outcome is a congenital malformation or death.
What does "no-fault" mean?

The Vaccine Injury Support Program (VISP) is premised on the notion of no-fault. This means that financial support to eligible claimants is provided regardless of responsibility or possible fault (e.g., of the claimant, manufacturer or health professional administering the vaccine). A no-fault program ensures timely access to financial support.
Eligibility
Will individuals in all provinces and territories have access to the VISP?

Individuals in all provinces and territories in Canada, with the exception of Québec, will have access to the pan-Canadian VISP. People who received vaccination in the province of Québec will continue to have access to the longstanding Québec Vaccine Injury Compensation Program.
Am I eligible for the program if I was injured after receiving a vaccine prior to December 8, 2020?

No, the VISP applies to Health Canada authorized vaccines, administered in Canada on or after December 8, 2020.
Are there any age limits to eligible claimants (i.e. infants, children, etc.)?

The program is open to all individuals, regardless of age.
Is Canadian citizenship an eligibility requirement for the VISP?

In order to be eligible for the VISP, the vaccine must have been administered in Canada. Citizenship is not an eligibility requirement for the VISP.
Will Canadians receiving a Health Canada authorized vaccine abroad be eligible for the VISP?

In order to be eligible for the VISP, the vaccine must have been administered in Canada. Members of the Canadian Armed Forces, Government of Canada officials, and their dependents who are deployed or posted outside of Canada are deemed people in Canada for the purposes of this pan-Canadian Program.
Compensation
What type of financial support payments will the VISP provide?

Eligible individuals may receive income replacement indemnities; injury indemnities; death benefits; coverage for funeral expenses; reimbursement of eligible costs such as otherwise uncovered medical expenses.
How much financial support can an individual receive under the VISP?

The amount of financial support an individual will receive will be determined on a case by case basis. Amounts will be based on a pre-determined financial support payment framework. The framework will align with compensation provided under the Québec Vaccine Injury Compensation Program and informed by other public and private sector injury compensation practices.
Am I required to waive my right to pursue litigation in order to be eligible to receive compensation through VISP?

The VISP does not require claimants to waive their rights to pursue litigation. However, individuals may be required to repay some or all financial support received through VISP if a subsequent court award or settlement compensates for the same injury.
Claim Support
How long do I have to file a claim after I have been injured? Will payments be retroactive to the date of my injury?

Eligible individuals will need to submit their applications within 3 years from the time they received the vaccination, or at the apparent onset of injury, or death.

Compensation will be retroactive from the date of the injury.
What medical documentation do I need to provide?

Applicants or authorized representatives in conjunction with the Physician who assessed the injury will be required to provide the following medical documentation:

Physician contact information
Patient contact information
Details specific to the vaccine
The report of the first medical consultation
Patient medical history

Learn more in Submit a Claim.
Am I required to have an attorney to submit a claim for financial support under the VISP?

No, legal representation is not required to submit a claim. If you need help submitting a claim, please contact us and a support team member can assist you.
Am I able to submit a claim on behalf of someone else?

Yes. An individual authorized by an applicant or beneficiary can submit a claim on their behalf. Appendix A of the application intake form includes required information to authorize a representative. Learn more in Submit a Claim
Can I appeal if my claim is denied?

Yes. Should a claimant wish to appeal a decision, an appeals process has been established to review previous decisions for eligibility. The physician committee reviewing appeals will be comprised of different panel members than those who made the initial determination.
Program Administration
How does a claimant demonstrate that the injury was caused by a vaccine? How is causality determined?

A committee comprised of three (3) physicians will review claimants' medical records to determine if a probable link exists between the injury and the vaccine.

This process is based on internationally recognized causality assessment protocols, standards, and existing frameworks, such as those established by Québec's Vaccine Injury Compensation program and the World Health Organization (WHO).
How long will it take to process my claim?

Timelines for a determination of eligibility and support will depend on the nature and complexity of the claim. All claims will be individually assessed by medical experts. The process will include a review of all required and relevant medical documentation, as well as current medical evidence, to determine if there is a probable link between the injury and the vaccine. If there is a probable link, the medical experts will also assess the severity and duration of the injury. This information will be used to determine the types and levels of financial support awarded to the individual or their survivor(s).
Is the Public Health Agency of Canada and/or Health Canada involved in the decision making-process on claims?

The VISP is being administered and delivered independently by RCGT, with funding from the Public Health Agency of Canada.

Decisions on individual claims are made by a committee of independent medical experts and neither PHAC or Health Canada is involved in the decision of individual claims.